Bulgarian Monasteries website looks a little bit different. OK, it's a lot different. But what you can't see is even more significant than what you can... news archive »


WELCOME TO BULGARIAN MONASTERIES
Tourists who want to get acquainted not only with the beauty of Bulgaria, but who would also like to feel the spirit of the Christian culture in its pure form, must visit its monasteries. The first monasteries in our lands were set up even before the establishment of the Bulgarian state on the Balkans.

In the second half of the 4th century the monks' life got organized and it was at that time that the first cloisters appeared. The oldest of them were cut in the rocks: like the Aladja monastery, the Albutinski monastery near Vidin, the Razboishte monastery near Godech, the Ivanovo monasteries under the protection of UNESCO. Even today these monasteries stand amid inaccessible rocks as witnesses of the heroism and the strong faith of the ancient Christians. read more »
SPOTLIGHT: SOKOLSKI MONASTERY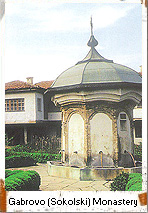 The Gabrovo monastery is located in the northern skirts of the Shipka ridge of the Middle Stara planina mountain. It was founded in 1833 by archimandrite Yossif, called later Sokolski. At present it functions regularly. It is a complex including a church and residential and farm buildings. Fires destroyed different parts of the monastery in 1918,1924 and 1938. The monastery was restored later in the period 1980-1982. The monastery church (13 x 8,30 m) was built in 1834 and was wall-painted in 1862 and 1935. It is a beautiful one-nef, one-apse, one-cupola building with two conchas and an open narthex. In 1836 a school was opened in the monastery. In the monastery yard in 1865 a stone fountain with eight spouts was built, supposedly by master Kolyo Ficheto. The monastery played an important role in the struggle for national liberation of the Bulgarian people. On July 31, 1856 (Julian calendar) the band of captain Dyado Nikola settled here with the intention to make it the center of the uprising. Vassil Levski turned up here.
At the time of the April uprising (1876.) the band of the voivode Tsanko Dyustabanov was formed here. Nowadays valuable exhibits are kept in the museum. The monastery is a monument of culture. It offers sleeping accommodation and catering. The monastery is about 9 km to the south of Gabrovo and there are regular bus connections. Nearby in the north direction is the architectural and ethnographic complex "Etur" By a third-class road to the south the monastery is connected to the town of Shipka (27 km) and from there - to the town of Kazanluk (another 12,5 km).